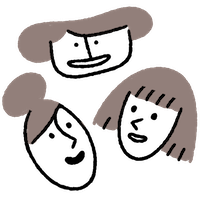 At Patreon, we love hosting events for our creators and communities. Our events bring creators from all backgrounds together for an intimate, collaborative, and educational experience. They are a place for creators to be themselves, together.
Patreon Events Code of Conduct
Our Events Code of Conduct helps us ensure a safe and inclusive environment for participants at our events. By participating in our events as an attendee, speaker, sponsor or volunteer, you agree to comply with our Events Code of Conduct. We expect you to follow this Code of Conduct during the event, and also at all event-related social gatherings.
Maintaining a harassment free environment
We are dedicated to providing 
a harassment-free event experience 
for all participants. Harassment includes offensive verbal comments related to gender, gender identity and expression, age, sexual orientation, disability, physical appearance, body size, race, ethnicity, religion (or lack thereof), technology choices, deliberate intimidation, stalking, following, harassing photography or recording, sustained disruption of talks or other events, inappropriate physical contact, and unwelcome sexual attention.
Participants asked to stop any 
harassing behavior are expected to 
comply immediately. If a participant engages in harassing behavior, Patreon may take any action it deems appropriate, including warning the offender or expulsion from the event without a refund of participation fee, if any. If participants at an event alert us to any other types of behavior that make them feel uncomfortable or harassed, we will do our best to resolve the situation and may ask you to change your behavior.
If you are being harassed, notice that someone else is being harassed, or have 
any other concerns, please contact a Patreon staff member immediately. Our staff generally wears badges for easy identification. Our staff will be happy to help participants contact local law enforcement, provide escorts, or otherwise assist those experiencing harassment to feel safe for 
the duration of the event.
If you experience or witness a life safety emergency, please contact your local authorities or dial 911 immediately.
Smoking or the use of illegal substances is not permitted at any of our event venues. We ask our participants to drink responsibly at events featuring beer, wine, and cocktails. Alcohol consumption is not an excuse for violating our Events Code of Conduct.
For the safety of all participants, we do not allow weapons of any kind at our events. A weapon is considered anything that could accidentally or purposefully cause injury to another participant.
We do not tolerate any destruction or vandalizing of personal or event property. Individuals who assemble at our events for the purpose of disturbing the peace, committing any unlawful act or engaging in any offensive behavior will be asked to leave the event.
We want our events to reflect the creative communities they showcase and celebrate. We offer gender pronoun stickers at our larger events and encourage participants to use these stickers. Respecting indicated gender pronouns helps create a welcoming environment for all participants.
Where possible, we also offer gender neutral restrooms at our events.
Photo and Video Disclaimer
We often have a photographer or videographer capturing our events. By attending our events, you agree to be photographed or filmed. However, we want to respect each individual's preferences for privacy. Please feel free to speak with our photographers/videographers, if for any reason, you would rather not be filmed or photographed. Our larger events have designated colored lanyards available at registration. One color designates strictly no photos or video and another designates that photos and video are allowed without additional permissions.
We reserve the right to use any photos and video footage developed under this clause without further permission from those included in the photo or video. We may use the photos or video in publications or in other media materials produced, used or contracted by Patreon, including emails, blogs, invites, websites, and social media.
Patreon makes reasonable efforts to host events in venues which are accessible and ADA compliant. Accessible venues have clearly marked aisles (at least 3.5ft wide), service elevators, ramps, and venue wayfinding that highlights accessible routes. We also provide reserved seating for participants with mobility issues and/or mobility devices. Service animals are welcome. Please contact us if you have specific accessibility needs that we have not addressed.
Talk to any Patreon staff at the event, or contact us at events@patreon.com